Enjoy the picture book I Promise by Lebron James while strolling the streets of downtown Kingston. Find the pages of the story in the windows of partnering businesses, then finish your walk at the Central Branch to pick up your free magnet (until supplies last!)
Your adventure is spread over a few city blocks, so bring water, snacks, and maybe a stroller or wagon for the littlest legs in your family.
StoryWalk® in Downtown Kingston Map
Click or tap on the image below to download the full map to your device.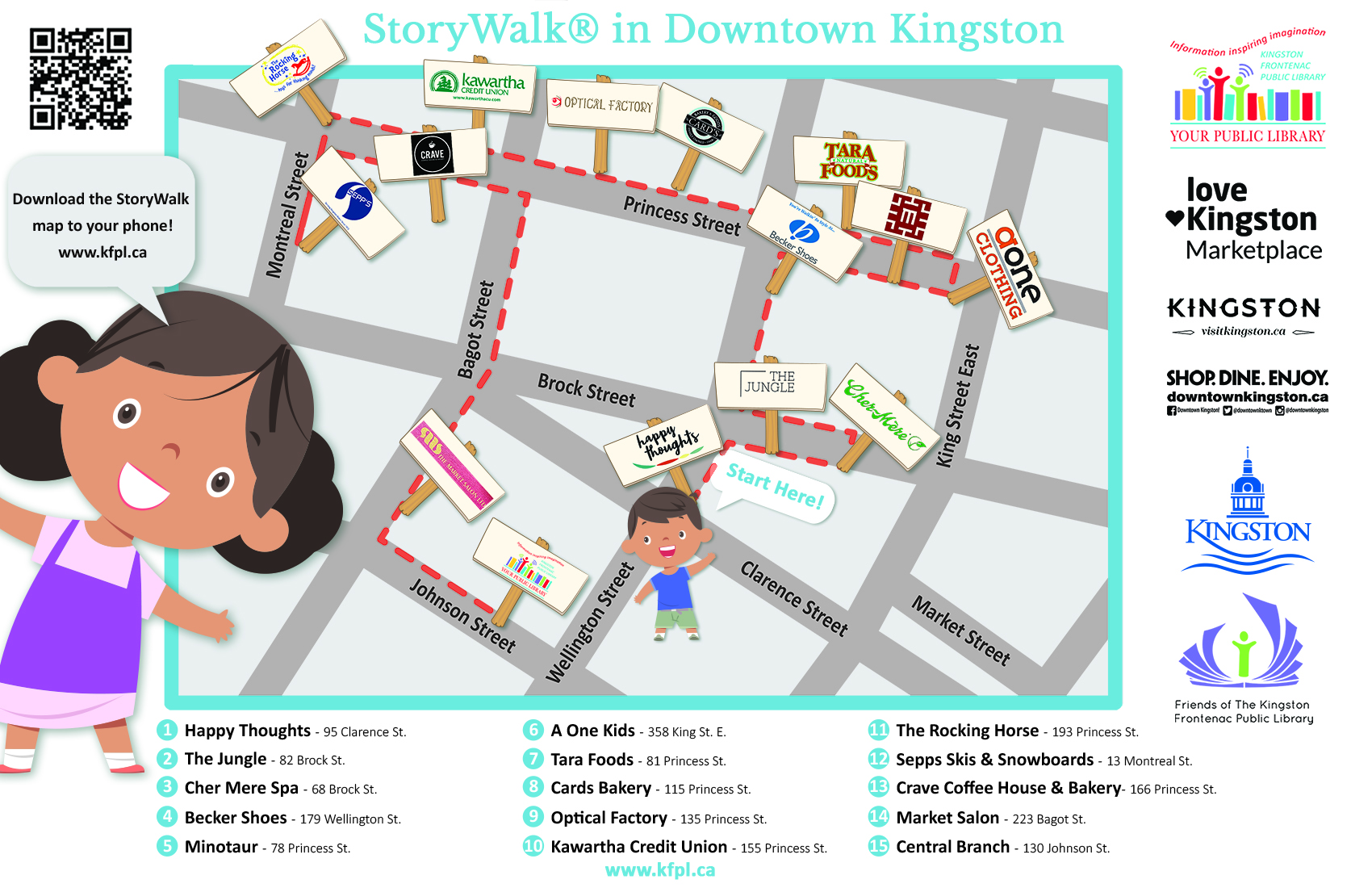 StoryWalk® Downtown Kingston Directions
Start at Happy Thoughts at 95 Clarence Street.
Down Brock to The Jungle at 82 Brock Street.
Continue on Brock to Cher Mere Spa at 68 Brock Street. 
Back up and across to Becker Shoes at 179 Wellington Street.
Turn right and head down Princess to Minotaur at 78 Princess Street.
Continue to A One Kids at 358 King Street East.
Cross the street and head back up Princess to Tara Foods at 81 Princess Street.
Continue to Cards Bakery at 115 Princess Street.
Continue to the Optical Factory at 135 Princess Street.
Continue to Kawartha Credit Union at 155 Princess Street.
Continue to The Rocking Horse at 193 Princess Street
Cross the street and walk toward Hotel Dieu, stopping at Sepps Skis & Snowboards at 13 Montreal Street.
Return to Princess Street and turn right. Continue to Crave Coffee House & Bakery at 166 Princess Street.
Walk to Bagot Street, cross the street and turn right. Walk to Market Salon at 223 Bagot Street. 
Head towards Johnson, and turn left to reach the Central Library at 130 Johnson Street for the last page.  
You did it!  Don't forget to pick up your magnet and borrow books to take home. 
Our Sponsors
StoryWalk® in Downtown Kingston is sponsored by the Friends of the Kingston Frontenac Public Library, and is made possible by the support of our partners.