Meeting rooms are available for rent to individuals and organizations at the Calvin Park Branch and Isabel Turner Branch. Rentals for the Central Branch meeting rooms will be available soon.
To book a room, download the Room Rental Application form (accessible version) and fax (613-549-8476) or email (administration@kfpl.ca) the completed form to the Adminstration Office of the Kingston Frontenac Public Library, 130 Johnston Street.
Applications must be received at least two weeks prior to the date requested. Administration will contact the applicant to confirm a room booking, subject to availability.
Book Clubs: Rental fees are waived for book clubs wishing to meet at the library. (Certain conditions apply.)
Room Rental Information and Rates
(Fees Subject to Change)
Room Rental Hours
Half Day Options: 9:00 am to 12 pm, 1:00 pm to 5:00 pm or 6:00 pm to 9 pm.
Full Day Options: 9:00 am to 5:00 pm or 1:00 pm to 9 pm.
Security Fees: When a meeting room has been booked during a time when the Library is not open to the public a minimum security fee of $90 will be charged. (Please note that the security fee will also be charged should access to a meeting room be requested before 9:00 a.m. and for meetings that extend past the closing of the branch.)
Cancellation of a reservation with less than 72 hours notice will result in a booking charge of up to 50% of the rental fee plus custodial/security costs which may have been involved in any room arrangement. Cancellation fees may be waived if the room is booked by another party.
Central Branch
Rentals for the Central Branch meeting rooms will be available soon.
Calvin Park Branch
The Friends of the Library Community Meeting Room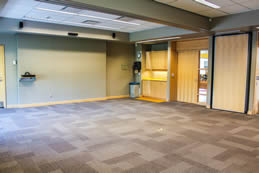 | Time | Price |
| --- | --- |
| Full Day | $200.00 |
| Half Day | $100.00 |
Capacity: 40 people with chairs only, 20 seated at tables
Bookings available for Evenings & Weekends only
Friends of the Library Community Meeting - Room A or Room B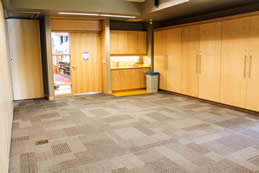 | Time | Price |
| --- | --- |
| Full Day | $125.00 |
| Half Day | $62.50 |
Capacity: 20 people with chairs only, 10 seated at tables
Room A - Bookings available for Afternoons, Evenings & Weekends only
Room B - Bookings available for Evenings & Weekends only
Isabel Turner
Cataraqui Room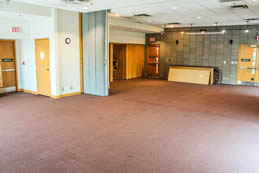 | Time | Price |
| --- | --- |
| Full Day | $200.00 |
| Half Day | $100.00 |
Location:  Isabel Turner Branch
Bookings available for Evenings & Weekends only
Room A
| Time | Price |
| --- | --- |
| Full Day | $125.00 |
| Half day | $62.50 |
Location:  Isabel Turner Branch
Capacity:  35 with chairs only, 20-25 seated around tables
Bookings available for Afternoons, Evenings & Weekends only
Room B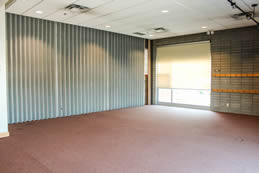 | Time | Price |
| --- | --- |
| Full Day | $125.00 |
| Half day | $62.50 |
Location: Isabel Turner Branch
Capacity: 35 with chairs only, 20-25 seated around tables
Bookings available for Evenings & Weekends only
Equipment Rental
For Calvin Park and Isabel Turner
| Equipment | Price |
| --- | --- |
| Flip Chart (Renter supplies markers) | $20.00 |