Enjoy a challenge? KFPL has you covered! We will have a variety of reading challenges throughout the year to keep readers engaged. You'll find old favourites like the TD Summer Reading Club for children, and new challenges linked to library programs, special themes, or just for the love of reading! And there may be prizes to win too.
Our reading challenges are available online through Beanstack. You can use the desktop version or download the app to a mobile device to participate.
If challenges are not for you, you can also just use Beanstack to track your reading and get personalized recommendations sent directly to your inbox!
Get started on Beanstack
Download the Beanstack Tracker app from your mobile device's app store or visit our Beanstack website kfpl.beanstack.com.
If you are using the app, locate Kingston Frontenac Public Library from the drop down menu.
Register yourself for an account. If more than one person in your household is registering for Beanstack (we have challenges for all age groups), create one account for the whole family and then add multiple readers. Click "I am Registering Myself" first, then add additional family members after you register yourself.
Select one of the various challenges available, based on your age. If challenges are not your style, you can still use Beanstack to log what you read. 
Check out the Beanstack FAQ below for tips to get you started.
Beanstack requires a valid email address to register for an account. Learn more about Beanstack's privacy policy
Featured Challenge: 1,000 Books Before Kindergarten 
Helping your child to be a successful reader just got more fun! Thanks to the generous support of The Friends of the Library, KFPL is set to launch 1,000 Books Before Kindergarten on September 1, 2023.
1000 Books Before Kindergarten (1BBK) is a free literacy program for newborns, babies, toddlers, and preschoolers. The goal? Read 1000 books with your little one before they start Kindergarten.
Take KFPL's 1000 Books pledge—and we'll be your cheerleaders along the way. 1BBK can help your little one develop a love of reading, provides you with opportunities to bond, and helps your child develop the early literacy skills they need for success later in life.
Why is 1000 Books Before Kindergarten important?
Because your child's learning starts at birth! Did you know:
By age 3, a child's brain has reached 80 percent of its adult volume.
The brain develops most rapidly during the first 1,000 days of a child's life.
A toddler's brain creates up to two million new connections every second.
Early experiences and interactions are key factor in a child's brain development. According to the Canadian Pediatric Society, "early exposure to language—whether through books, words, or songs—can help prevent problems and promote health." (Canadian Paediatric Society, 2016)
A child's ability to learn language skills is greatest before the age of 6.
Early literacy skills have a lifelong impact on educational, social, and occupational successes.
Being read to during early childhood is a predictor of school readiness and success.
Does reading 1000 books before your child reaches kindergarten sound intimidating? You can easily reach this milestone by establishing a daily reading habit. How fast you reach it is up to you. You can read one book or multiple books each day—it's up to you.
3 books a day for 1 year = 1,095 books
1 book a day for 3 years = 1,095 books
Use our simple logging tool to track your reading and earn badges all along the way. This is the same tool (Beanstack) we use for Summer Reading, so if you've participated in our TD Summer Reading Program this year, you already have an account set up!
If you prefer to track your progress using a physical chart, stop by any KFPL branch or use the stay-at-home version that you can print and colour yourself. We recommend displaying your tracker somewhere in your home that is highly visible!
Remember, you can repeat books as many times as you want, and virtual storytimes and audiobooks count, too.
When you're halfway done (500 books) pick up your free book bag! Once you've finished all 1000 books, you will receive a certificate and prize! 
Ready? Set? Start reading!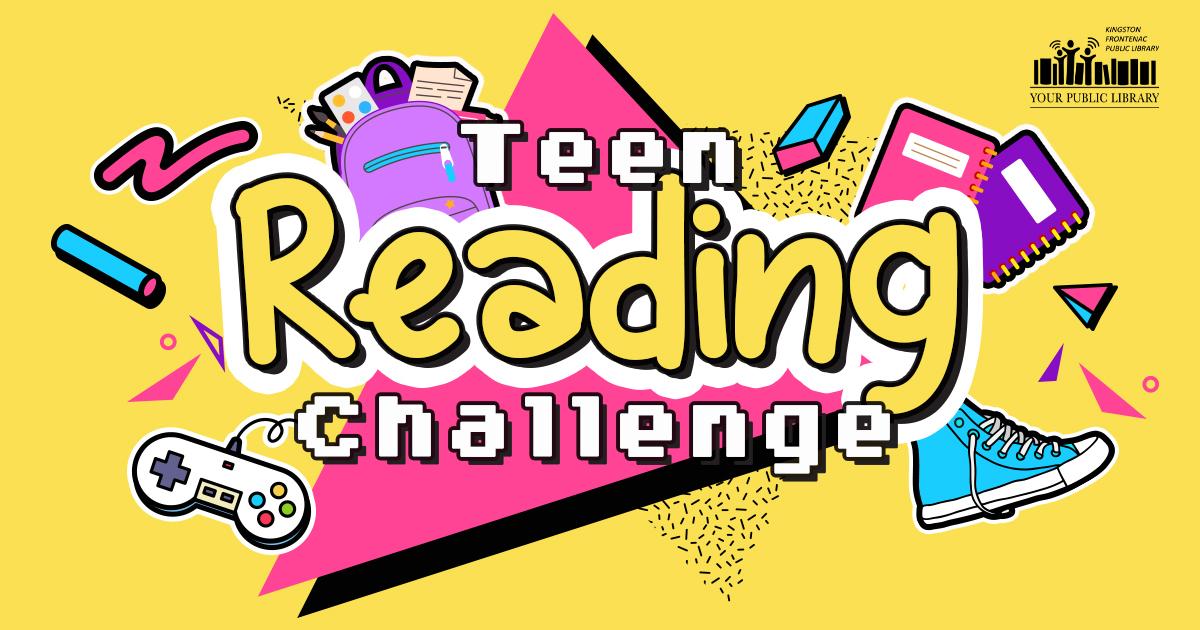 Teen Reading Challenge
September 18, 2023 to June 27, 2024.
Teens, read books, complete fun challenges, and get involved with the library in the Teen Reading Challenge. The Teen Reading Challenge is fun, free, and open to any person aged 13-17 in Kingston and Frontenac County.
Every book you read, review you write, or activity you complete enters you for a chance to win a custom book box provided generously by OwlCrate!
You can receive entries just by:
Signing up!
Reading a book for school
Reading a graphic novel
Visiting your favourite KFPL branch
And more!
Catch you there!
Beanstack FAQ
What is Beanstack? 
It's the world's easiest way to keep track of all the books you read. When you create a Beanstack account for yourself or your family, you're instantly connected to KFPL's reading programs, so you'll get credit for every minute and every page. We'll keep all your stats for you, cheer you on while you work towards your program goals, and let you know when you've earned prizes. When your library's program ends, you keep your account, and your reading history—it's always free, and you can keep right on logging your leisure reading. When the next library program comes around, no need to re-register—just click on it, and you're in.
How do I log my reading or activities? 
If you use the app to access Beanstack, you can use your phone to scan the barcode on the back of your book. If you want to get fancy, you can also enter the number of pages, minutes, or hours (nice work!) that you read. If your current Challenge uses Activities, they'll be there on your screen—just click the ones you've done. Prefer to use your computer to log your reading? No problem. You can always enter your reading through your Beanstack account online, too. 
How do I get the prizes I earn in Beanstack? 
Every time you hit a reading milestone, you'll win a badge—a little digital fist bump to celebrate the quality time your brain and your books have been spending together. Certain badges will get you tickets in a prize draw. Your Challenge should have all the details, or talk to our staff to find out more!
May I add more than one reader to my account? 
You can set up as many profiles as you like, for readers of any age. And if you're a parent who reads aloud to more than one kid at a time, you can credit that reading time to multiple children's accounts with a single click—no need to log it in separately for each of your avid listeners.
How do I update my password? 
Tap that little "gear" button in the top right and hit "Edit Account."
How do I stop getting emails from Beanstack? 
Just click "Edit Reader" (it's right next to your name) and hit "No" under Email Notifications.