To celebrate Science Literacy Week, Lindsey Carmichael will be answering your questions about biodiversity and nature. She will be answering five questions, and will be releasing her answers on the KFPL YouTube channel starting Monday, September 21, 2020.
Join Lindsey Carmichael on KFPL's Facebook Live on Saturday, September 26 at 1:00 PM to chat about biodiversity and being a writer. Submit your questions in the form below. If your question was not selected, you will have chance to ask her then.
Book Giveaway Contest
Submit a question for a chance to win a copy of Lindsey Carmichael's The Boreal Forest: A Year in the World's Largest Land Biome!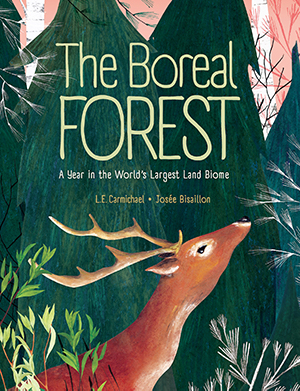 In this beautifully written book, award-winning author L. E. Carmichael explores this special wilderness on a tour of the forest throughout the four seasons, from one country to another. Evocative watercolour and collage artwork by award-winning illustrator Josée Bisaillon provides a rare glimpse of one of the world's most magnificent places. — Description from www.lecarmichael.ca
How to Enter
Entries must be made with the permission of your parent or guardian. Complete the form below. All fields must be completed. Please submit one entry. Winners will be selected by Lindsey Carmichael. Employees of the Kingston Frontenac Public Library and their immediate family members are not eligible.
Contest is open to library card holders of the Kingston Frontenac Public Library under the age of 12.
Contest closes September 13, 2020 at 5:00PM.
Statement of Consent
By entering the contest, entrants confirm that they authorize the Kingston Frontenac Public Library and its partners to publish the first names and questions of contest winners.
Our Sponsors
We would like to thank our partners.