Printing & Photocopying at a Branch
Printing
Printing is available from all library computers. Some branches provide a self-serve option to pay for printing services; at all other branches, please pay at the circulation desk.
Costs for Printing
Black-and-white printing is 25 cents per page
Colour printing is 50 cents per page
Photocopying
All of the urban branches and several of the rural branches are equipped with coin-operated black-and-white photocopiers. Single-sided copies are available on letter size (8.5 x 11") or legal size (11" x 14") paper.
Costs for Photocopying
Photocopies are 25 cents each.
Mobile Printing
Kingston Frontenac Public Library patrons can now print to the patron printer at the Central branch from their mobile device or their Internet-connected computer though the PrinterOn service.
PrinterOn works with our current Envisionware printing system. Print jobs can be sent through a mobile app or as a web upload. There are mobile printing apps for most popular platforms: iOS, Android, BlackBerry, Nook, Kindle. The apps can be found in your device's app store or from the PrinterOn website.
Patrons can submit documents from wherever they are – on the road, in their home office or in the library. Documents are not printed until the patron comes to the location and releases their print job. Printing costs are the same from either your mobile device or on a library computer. (Note: You may want to bring your file on a flash drive or have it accessible via the cloud just in case there is a problem with the mobile printing system.)
The service supports many file types and image format, which include, but are not limited to, the following:
Supported File Types and Formats

| File Types | Image Formats |
| --- | --- |
| Microsoft Word | TIFF |
| Microsoft Excel | JPG |
| Microsoft PowerPoint | PNG |
| Microsoft Visio | GIF |
| Adobe PDF |   |
| Open Office |   |
View a complete list of file formats by downloading online PDF.
Send Via Mobile App
Find the app in your device's app store (search for PrinterOn) or from the PrinterOn website.
Once you have downloaded the PrinterOn app to your device you will need to find our printers. GPS-based discovery offers a wide range of tools and options efficiently presented to both visualize and locate printers. Explore a location by dragging the map and use the "Search This Location" option to find printers in the vicinity. A Summary Printer List may be overlaid on the map to view additional printer information while exploring the map for more printers. Paged results allow users to view and expand the field of view on the map and explore a broader radius of printers. A location-based search bar allows the user to enter locations, city names and points of interest to navigate to the location and search for printers.
The PrinterOn Mobile App's Print History and Background Print functionality provide an intuitive user interface to manage active and past print jobs. The Background Print functionality allows the user to submit multiple print jobs and receive notifications about the progress of each print job individually. The Print History catalog provides detailed information about your print jobs.
PrinterOn's Mobile App is able to provide a large amount of information in an easy-to-understand format
After locating a printer, tab the "star" icon to save the printer information. The printer can be used later under the Saved Printers tab.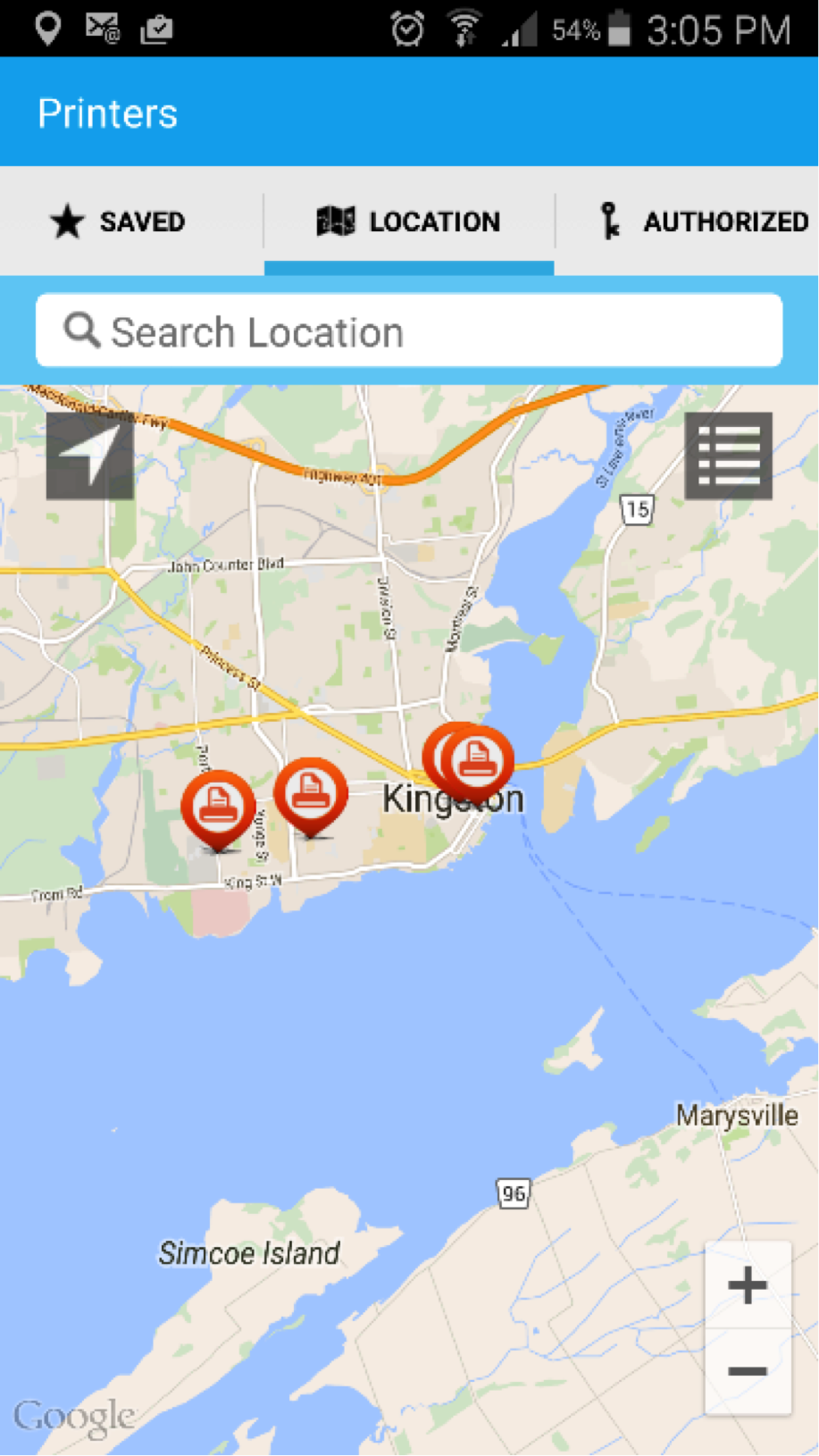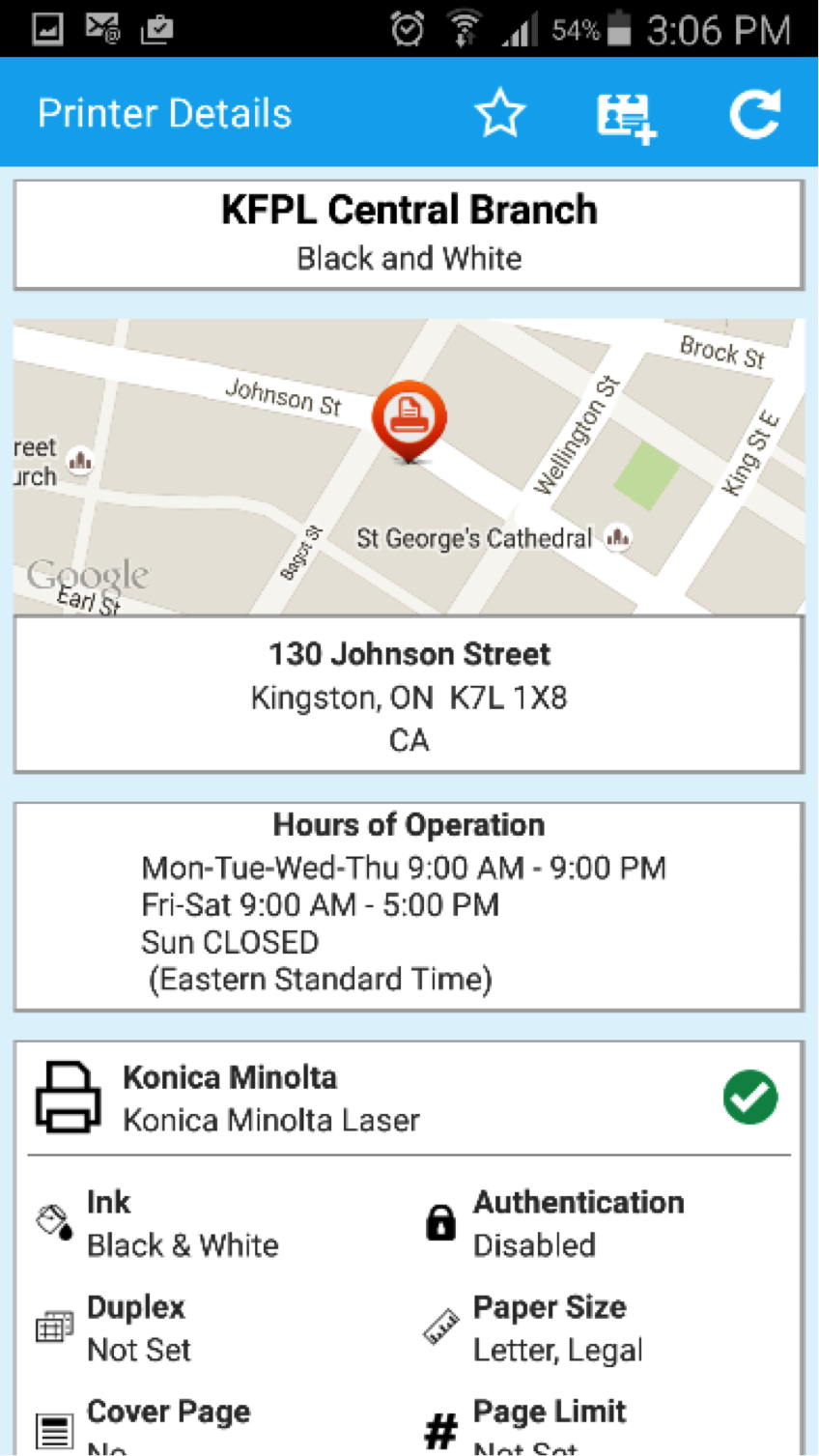 Printing a Document from the App
Launch the app.
Select your printer by scanning a QR code, selecting a saved printer or searching for a new printer.
Confirm that the printer you wish to submit to is shown in the Printer box on the app's Home page.
Tap Documents.
Select your Storage provider, or tap "Device" to search in the device internal storage.
Locate and tap on the desired document.
You will now see a preview of the job when available.
To select copies and page range where applicable, tap the option icon in the top right corner.
Tap Print to submit your job.
To retrieve your print job, go to the location (within 24 hours) and log into the Print Release Computer using your email address. Select your job, pay and print.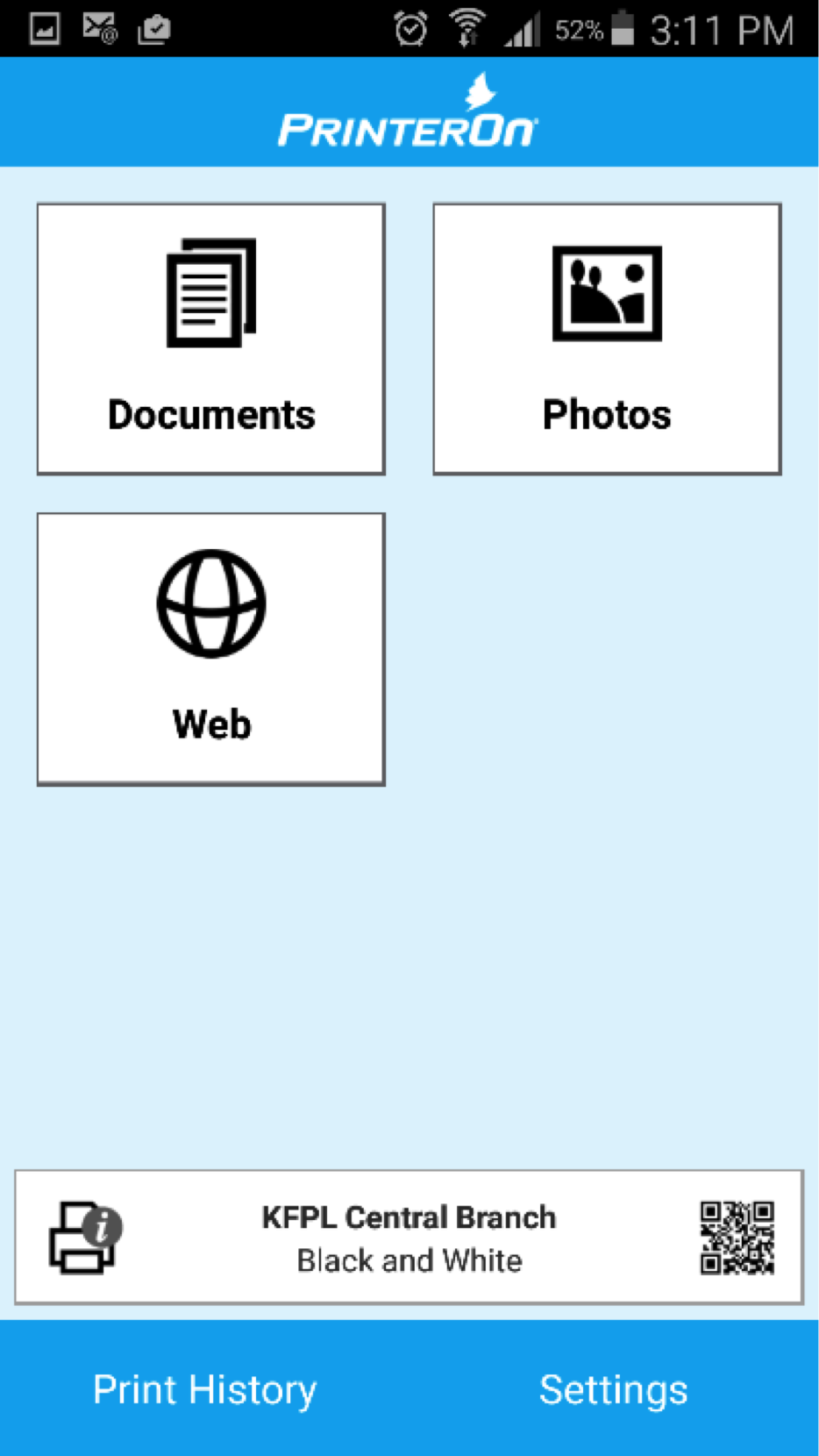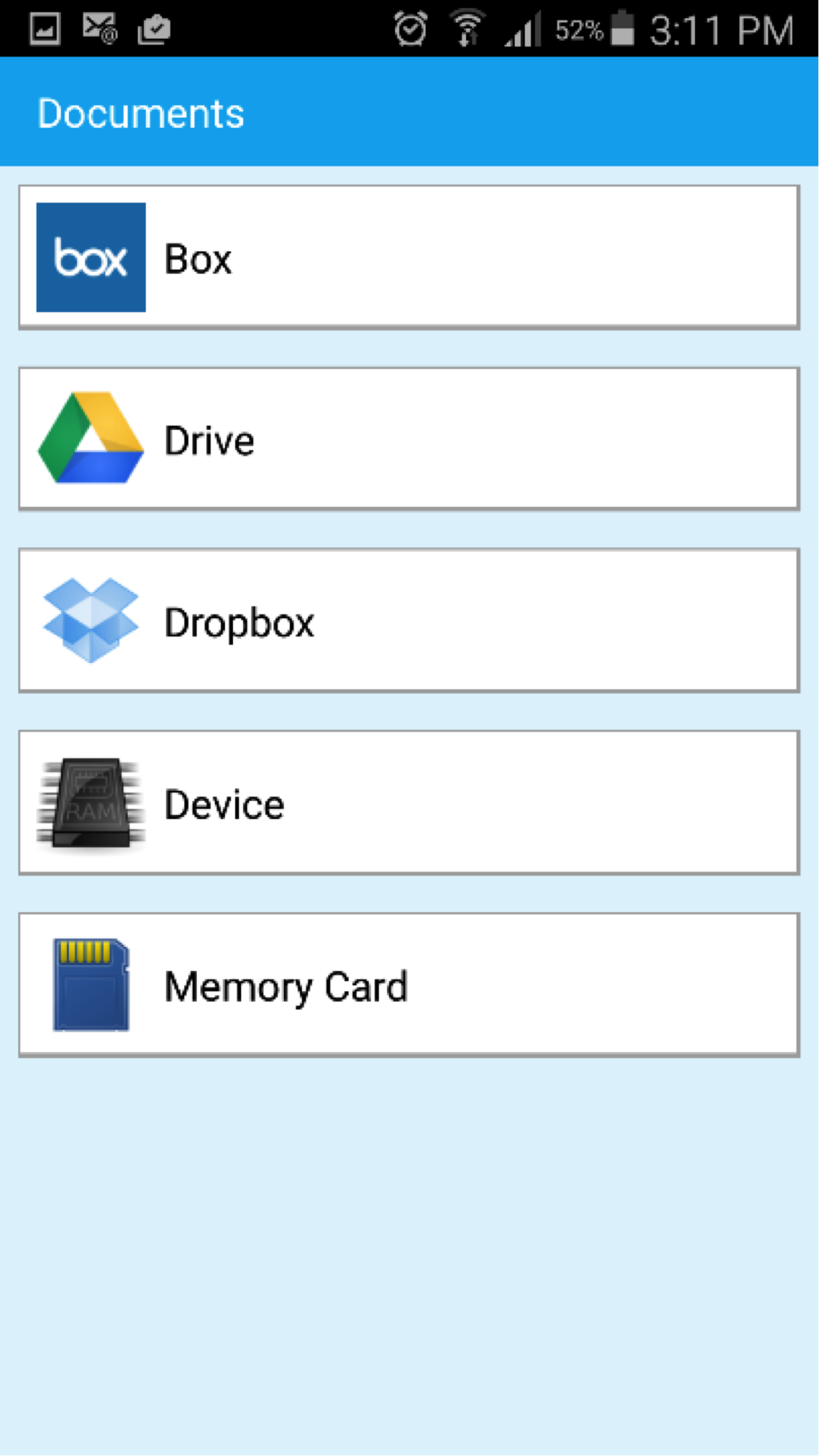 Upload via Website
From any web browser go to PrinterOn web page:
Select the printer type (black and white, colour, etc.).
Type in your email address. (This email address will be needed to release your print job.)
To send a document saved on your device, select the Browse button and search for your document.
To print a page from a website, type or copy and paste the URL for the website you would like to print. NOTE: Printing from a secure website is not available. (For example if you make a purchase and would like to print the receipt page, you may have to download it as a .pdf or have it sent to you as an email that can then be printed using the email printing option.)
To retrieve your print job, go to the location (within 24 hours) and log into the Print Release Computer using your email address. Select your job, pay and print.